Cemetery
Burial & Entombment Options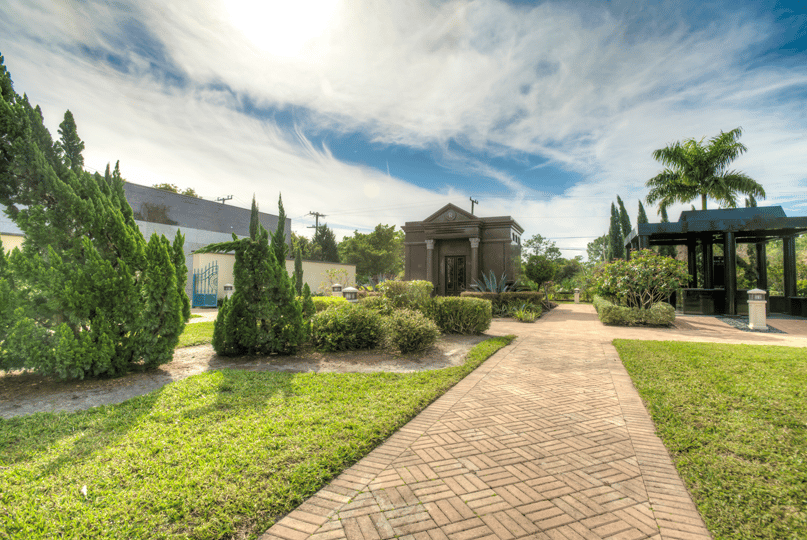 The Gardens is an all above ground mausoleum cemetery due to the high-water tables in Florida that can lead to flooding of the graves, or the casket even being displaced. Mausoleums are strong, permanent structures, containing private compartments known as crypts. They are clean, dry and completely sheltered in this protected environment. Understanding the differences and options available regarding a final resting place for yourself or a loved one. If you are choosing a final resting place for a loved one or as part of your pre-planning arrangements, there are a variety of options regarding the crypt burial you can choose.
Three Types of Mausoleums
Indoor
A shared space where the crypts are located indoors
Garden/Outdoor
A shared space where the crypts are located outdoors
Private mausoleums
Private spaces, where the crypts can be located indoors or outdoors
Types of Mausoleum Crypts
There are several different types of crypts and configurations.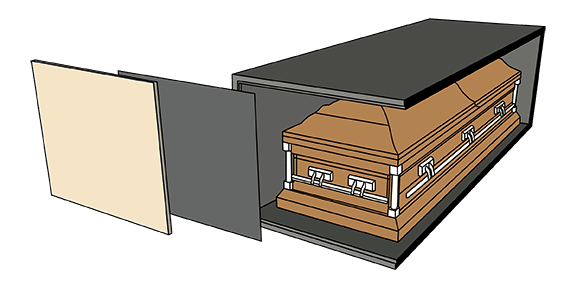 Single Crypts
The most common type of mausoleum crypt. These spaces are designed for the entombment of casketed remains mainly. Both indoor and outdoor mausoleums have single crypt configurations. Single crypts are intended for one person and can house cremated remains in addition to traditional caskets.
True Companion
Space for two caskets head-to-head. A true companion crypt holds two caskets end-to-end, as opposed to next to one another. This crypt has a "shared" marble front and shared memorialization A single crypt front is shared.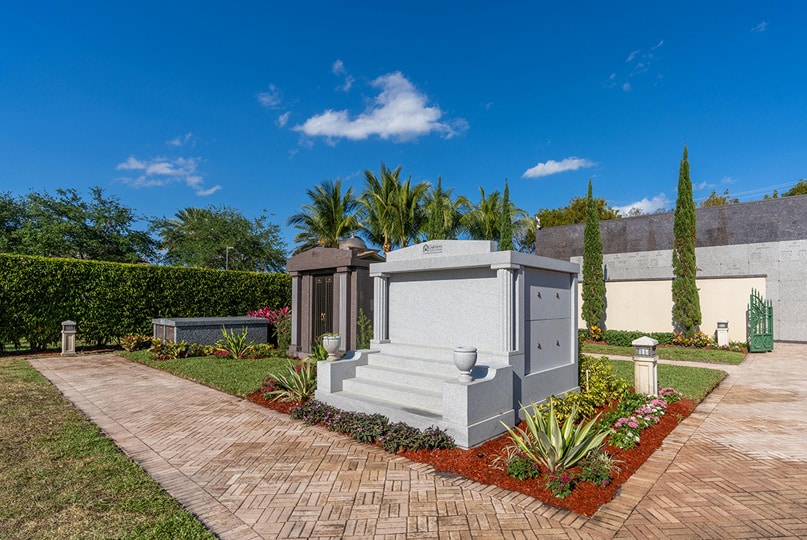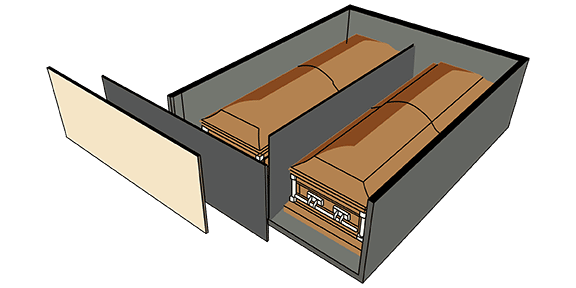 Side x Side Crypts
Side x side crypts are common among couples. Companion crypts share a double-wide shutter for memorialization.
Couch
Space for two caskets behind 1 solid marble crypt front. Caskets are aligned lengthwise and adjacent to each other without a concrete divider between the caskets.
Legacy Room
For families desiring a more private area for their loved ones' casketed remains, stately individual rooms are available. These rooms, constructed of the finest marbles, are designed to reflect the personal taste and faith of their owners.  
 A private family mausoleum is a building-like structure that entombs the deceased above ground. It serves as a monument to the individual or family and is designed in an architectural style of the family's choice. Many families find the privacy, exclusivity, and the fact that remains are not buried in the ground attractive alternatives to traditional burial. While two crypt mausoleums are most common, any number of crypts can be accommodated.
The most sophisticated family mausoleums feature interior rooms with seating and altars. These indoor spaces offer a private space where the family can gather and reflect. The design and production of a private family mausoleum requires time so planning ahead is essential.
Although you have the option to keep an urn at home, we've discovered that many families want a permanent place to go to remember their loved ones. Many people don't realize the significance of choosing a final resting place. It is an important step in creating a family legacy, establishing a place of remembrance for future generations and paying tribute to a special life.
Cremation burial options range from glass niches, marble family legacy niches, marble benches and marble niches inside and outside.
Glass-front niches act as shadow boxes, allowing the contents of the niches to be seen. In addition to the cremation urn, families often display photos, jewelry, dried flowers, stuffed toys, notes and small trinkets that are reminders of their loved ones. Because glass doesn't stand up to the elements as well as granite or bronze, glass-front niches are always inside a columbarium or mausoleum. 
The urn containing the cremated remains is placed inside the niche and surrounded by photos, cherished mementos, and items which best depict the life of a loved one. By choosing a glass-front niche, a family is able to create a meaningful tribute while enjoying a quiet, secure, climate-controlled, and comfortable atmosphere to pay their respects.