Plan a funeral
Funeral Planning Services
When a loved one dies, the emotional turmoil can make it difficult for family members to decide on funeral arrangements. No one is prepared for the sudden loss of a loved one, let alone for the number of decisions that need to be made to say farewell to their loved ones.
Having the right assistance providing guidance through every step of the process can lessen the burden, ease the pain, and reduce some of the stress experienced during this difficult time. That's why at The Gardens we offer a qualified team of experts to assist you with your funeral arrangement needs.
In-Person Funeral Arrangements
We understand planning a funeral for a loved one is deeply personal. This is why we offer on-site offices to help you go over the many aspects of planning a funeral. With our in-person arrangements and meetings, we can guarantee all of your needs will be met.
Personalized Assistance
At The Gardens, we believe in delivering personalized assistance to every family we meet. Our mission is to take care of your family as if it was ours. When you choose The Gardens for your funeral planning needs, we will make sure to listen to all your requests and questions. Our team will be with you every step of the way, whether it be to provide planning arrangement services, guidance services, or even counseling during this difficult time.
All-In-One Services
Planning a funeral has many variables. At The Gardens, we count on our all-in-one services to make sure you don't have to go through the burden of seeking out multiple places. So, from funeral planning to burial arrangements, we're here to help you and your family.
How Pre-Paid Funeral Plans Work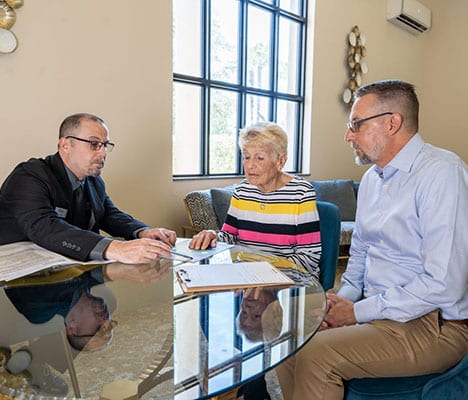 What Details Are Covered When I Make Pre-Paid Funeral Plans?
With the cost of funerals so high, many individuals want to make sure that the money they contribute towards their plan covers all of the essentials, plus many details. When you are involved in your funeral planning process, the money in your trust covers nearly all of your final wishes.
Your trust will cover the funeral or memorial service that you choose to have, your cremation or burial, the cremation urn or casket, the cremation niche or plot at your final resting place, as well as details of the service. Some individuals choose to pre-select the flowers or music they would like at their service, and our pre-paid funeral plans can fund these more detailed aspects.
Being able to cover the majority, if not all, of the costs associated with funeral planning brings many individuals great comfort. You are given peace of mind knowing that your family will not have to worry about finances while grieving. You will also have the assurance that your final wishes are upheld.
Why People Choose to Make Plans in Advance
"Pre-planning my funeral was my way of alleviating a final burden on my family."
"In pre-paying for my funeral arrangements, I've made sure that my family is not left with the trouble of covering unexpected costs.."
"I value the ability to make my own decisions."
"I had the ability to make my final wishes known on paper. No one will have to argue or make decisions they are unsure of during a difficult time."
Funeral Preparations – What You Need
To begin making arrangements for pre-paid funeral plans, there are several items that you will need to have in order. First, schedule a private consultation with a member of our team. We will walk you through the funeral planning process, taking the time to answer any questions you may have. If you prefer, you can begin the process online, with our digital funeral planning guide. It will help you prepare for what to expect during an in-person consultation.
Key things to get in order before starting the pre-planning process include documentation for any life insurance or private insurance policies you currently have, financial records, your living will if one exists, as well as personal information such as your social security number, birth certificate, and contact information for those who will be involved in the future.
For more information on things to consider during the funeral planning process, view our Frequently Asked Questions and Answers. It will also provide you with key funeral terms to know.
Record of Wishes
In some cases, the deceased may have chosen to pre-plan his/her funeral arrangements. If this is the case, you should celebrate your loved one's wishes by following the pre-planned arrangements. These are often planned with a funeral home and a cemetery.
Will or Testament
When pre-planning arrangements weren't made, the deceased's last wishes are often found in their will or latest testament. In many cases, their preferred burial option and their preferred memorial services are usually stated in these documents. In some cases, an attorney may have additional information regarding the deceased's last wishes.
Death Certificate
A death certificate will need to be issued to inform authorities about the death. For the death certificate you'll need to gather:
Date of birth
Place of birth
Social security number
Occupation
Military service
Education
Parents name
Final resting place
Burial Options
Part of the planning a funeral includes looking at burial options, as these can change the type of funeral service held. Often families choose from these burial options:
Why Funeral Planning in Advance is Important
Planning for the future is a natural and essential part of our everyday lives, and funeral planning is no different. We contribute to retirement plans, take out life insurance, and create wills. As your family matures, pre-planning your funeral becomes part of this important planning process. There is no charge for making pre-paid funeral plans. The process consists of a basic conference with our staff, where the funeral director will record statistical information, service selection, and casket selection.
The goal of the funeral planning process is to ensure that all of your final wishes are met. Additionally, it ensures that there is less of an emotional burden on your family during a difficult time. Pre-paid funeral plans alleviate the financial stress that often comes with funeral planning. The average funeral costs nearly $9,000, but when you arrange pre-paid funeral plans, you save up to 25% off that cost and save your family from ever-rising expenses.
What Are the Benefits of Pre-Paid Funeral Plans?
In addition to protecting your loved ones against the rising cost of funerals, and ensuring that your final wishes are upheld, there are numerous benefits of participating in the funeral planning process. The most significant benefit is the peace of mind and sense of relief that you will experience knowing that your family will not have to struggle with the decision-making process in the future.
Often, when grieving, it is difficult to think clearly or to make decisions, and loved ones are frequently overwhelmed. If you haven't had a conversation about your final wishes, they may not be aware of what to do, or family members may have conflicting opinions.
Doing all of your funeral planning ensures that this is not the case. Loved ones will not be left wondering whether or not they are making the right decision, and they will not have to pour over tedious paperwork during such a difficult time. You will have taken care of everything for them. Many individuals consider making pre-paid funeral plans to be the last gift they give their families.
Personalization
Another substantial benefit of funeral planning in advance is the ability to provide family members and the funeral director with instructions on how to personalize your funeral. If you know that you would like an organ player at the service or white roses, you can make sure this happens.
You have the opportunity to pre-select passages that you would like read, designate speakers who are important to you, and request that family photos or memorabilia be displayed. When you complete the funeral planning process, you ensure that the service reflects who you are as a person, on your terms.
What We've Heard Over the Years
"I have always liked to be in control of my life, and this is no different."
"I have seen family members struggle when a loved one dies if their final wishes were not known. I've made sure that this will not be the case."
"I would like things to be done my way, to reflect my personality. The funeral planning process allowed me to do just that."
These are just a few of the statements our clients have made when selecting pre-paid funeral plans. If these statements speak to you, too, funeral planning is the right step to take.
Funeral Service Considerations
Once all the elements needed to plan a funeral have been fulfilled, it is time to look at the funeral service considerations that will shape the type of funeral held to celebrate your loved one. Our team of experts will go over the many considerations needed to make sure your loved ones' wishes, as well as your wishes, are met.
Religious Traditions
At The Gardens of Boca Raton, we understand the value of religious traditions. This is why, when planning funeral arrangements, we look at religious and non-religious traditions to celebrate your loved one. Understanding the religious traditions the family adheres by can help our expert team plan a thoughtful, respectful, and honorable funeral service.
Things to Consider
Before the funeral service, a few decisions need to be made to make sure the deceased's wishes and the family wishes are met. Some funeral service things to consider include:
What will the hours of visitation be for the funeral?
What clothes will the deceased wear?
Who will officiate at the funeral?
Will flowers be displayed?
Will donations be requested in lieu of flowers?
Will there be a photographer?
Will the funeral be live streamed?
Will there be a videographer in attendance?
Going through these points with the family members involved in the funeral planning will help make sure the ceremony goes as planned.
Funeral Ceremony
After those considerations have been met or answered, it will be time to start planning the funeral ceremony. At this point, our team of experts will help you navigate through potential vendors and the many options available to plan a funeral.
Ceremony Style
There are many ceremony styles to choose from, including a traditional funeral service and a memorial service. However, today ceremonies include other rituals such as lighting memorial candles, releasing memorial lanterns, and so on. The ceremony style will also change according to religious belief and cultural traditions.
Things to Consider
Regarding the ceremony, a few decisions need to be made regardless of the ceremony style chosen to celebrate the life of your loved ones. These considerations include:
Who will deliver eulogies? Who will write the eulogies?
Will there be music? What kind of music?
What scripture will be used?
Will there be food served at the ceremony or after the service? If so, where?
Where will the funeral ceremony be held?
As we know, planning a funeral can be overwhelming; let alone the fact you're dealing with the grief and emotions of losing a loved one. That's why at The Gardens of Boca Raton, we believe in helping families through this challenging time. With our expertise, we can help shoulder the stress and burden of planning a funeral, so you can focus on celebrating the life of your loved one. From funeral planning to burial arrangements, we're here to help you and your family.