The high water table presents issues with in-ground cemeteries in South Florida. For this reason, it's essential to know what to expect when choosing between an in-ground or above-ground burial either during the pre-planning process or when making immediate need arrangements for a loved one. South Florida is known for its infamous hurricane season and tropical climate, receiving an average of 55-inches of rainfall annually.
With a low sea-level and so much rain, South Floridians are no strangers to flooding. The large amounts of water affect more than just the roads and front lawns. Cemeteries in South Florida can also become swamped, leading to gravesite damage. Above-ground burial is a way to avoid many of these potential issues, keeping you or your loved one's final resting place safe and protected from the elements.
The Downsides of In-Ground Burials
When choosing a final resting place in South Florida, you must carefully consider what may happen to an in-ground burial during inclement weather. Since even brief rainstorms can cause flash floods it is important to know how the water surge affects these plots of land.
Cemeteries in South Florida and Flooding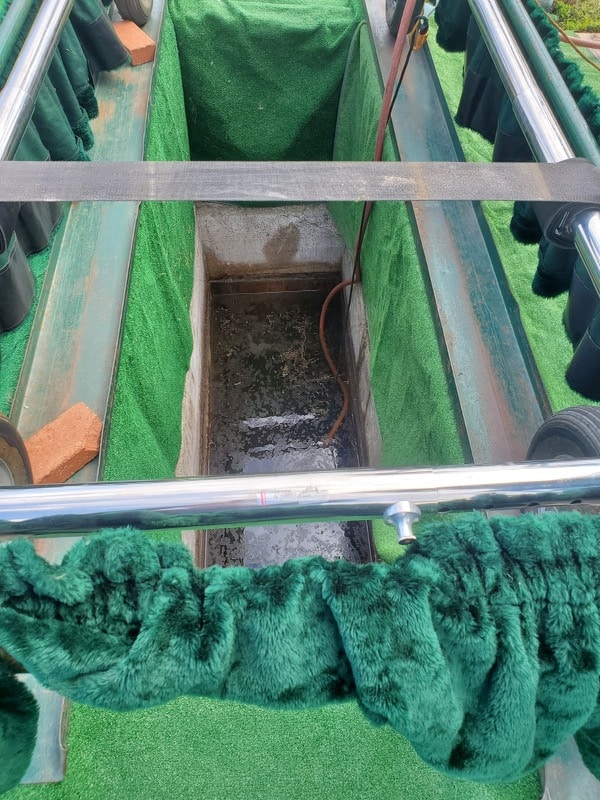 When cemeteries flood, in-ground burials can be severely impacted. The water may dislodge tombstones, causing them to topple over and break. It is possible for caskets to rise to the surface, or even wash away, as dirt and mud get swept away by the rain and sweeping waters. For many individuals this is heartbreaking.
We know how meaningful it is to keep the final resting place of a loved one in pristine condition. You want a tranquil place to come and pay respects for years to come without worry of damage or the tragedy of a casket washing away.
When a casket rises to the ground's surface it poses the need to re-bury a loved one all over again, which can be emotionally painful and stressful. It may feel like you have to say goodbye once more. You also may face additional costs as well as the emotional burden.
Choosing an Above-Ground Burial
Above-ground cemeteries in South Florida pose many benefits compared to traditional in-ground burials. Not only do they often provide more ways to personalize the final resting place of a loved one, paying tribute to their legacy, but they are often much safer compared to ground burials.
There are also several options for above-ground burials. These include:
Mausoleums, either community or private
Crypts and niches
Family estate benches
Why Above-Ground Burials Are Safer
When you choose an above-ground cemetery you avoid the risk of having the final resting place of yourself or a loved one flood. As there are indoor options for above-ground burials, caskets and urns can remain entirely protected from the elements. This offers complete peace of mind, knowing that the rain in South Florida will not affect the area.
Similarly, outdoor mausoleums are often large, solid structures that are sealed and caskets remain well above ground level. This protects the area from flooding and ensures that no casket will ever be exposed, need to be re-entombed, or damaged.
Additional Reasons to Select Above-Ground Burial
Not only do above-ground burial options provide protection against the flooding that can occur in cemeteries in South Florida, but there are many other benefits. These benefits vary depending on your final resting place of choice.
The Gardens of Boca Raton have a variety of above-ground burial options to choose from.
The Benefits of Cremation and Selecting a Niche
Cremation is often much less expensive than a traditional in-ground burial. Additionally, when you select a glass niche that is indoors you will have a place to come to pay respects year-round, regardless of the weather. You will always have a serene spot to reflect upon memories with your loved one that you can visit comfortably at any time.
Glass cremation niches also provide the opportunity to decorate or personalize the space as often as you like. Many family members choose to come on birthdays, special days, or other holidays and personalize their loved one's cremation niche regularly. You can display photos and mementos and be sure that they will remain safe and undisturbed by rain or wind.
The Benefits of Mausoleum Crypts
Selecting a mausoleum crypt also avoids the possibility of flooding that can affect in-ground burials. Like a cremation niche, a crypt may be indoors where it will remain entirely protected from severe weather. There are several different types of crypts that you may select from to best suit the needs of both you and your family.
These include single crypts, side-by-side companion crypts, true companion crypts, and Westminster family crypts.
The Benefits of Private Mausoleums
Again, private mausoleums protect the entombed from flooding. Private mausoleums are beautiful monuments that are outdoors and serve as a great tribute celebrating your family's heritage. Not only are they above-ground, but they offer many possibilities for personalization and custom engraving. They can be true works of art and serve as a spot for generations to visit well into the future to pay respects.
The Benefits of Memorial Benches
Memorial benches, which sometimes house cremated remains, are another above-ground burial option that does not pose the risk of having a casket washed away or brought to the surface. Benches house the urns while also serving as a spot for family to sit and reflect.
Another significant benefit is that you can choose to place a memorial bench in a spot that is meaningful to you. For example, under a specific type of tree or near a body of water.
Avoiding Floods with Above-Ground Burial
Above-ground burials in cemeteries in South Florida are by far the safest and surest way to protect the final resting place of yourself or loved one against flooding. The damaging impact of floods can go beyond the physical effects. When a final resting place is disturbed it can cause severe emotional distress, sadness, and pose a financial risk.
The climate of South Florida is unpredictable, with many rain days a year and hurricanes that strike regularly. The possibility of a final resting place being flooded is very real and can be challenging to address if it happens.
Choosing an above-ground burial will put your mind at ease, knowing that the entombment is safe and protected from the elements, now and always.