Above-Ground Burials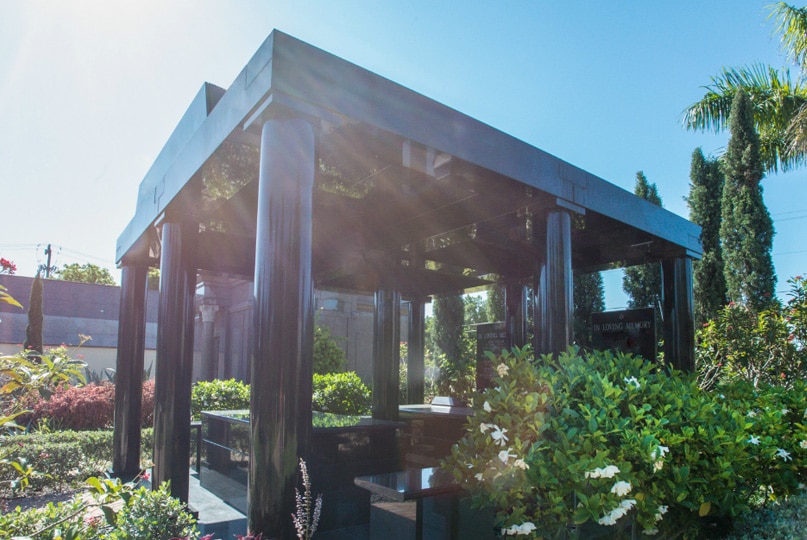 There are plenty of decisions people must make when considering their own funeral or service for a loved one. Those decisions range from being buried in a casket or being cremated, and what type of funeral services they should get. Also, are they aware of the differences between above-ground burials and the traditional in-ground burial?
Understanding How Above Ground Burials
At The Gardens of Boca Raton Cemetery and Funeral Services, we offer above-ground burials, and this article will help you understand some of the benefits of that type of interment.
In-ground burials might be more traditional, and they usually include a casket for the deceased, for burial or cremation. Then, the casket is buried in a plot at a gravesite in a cemetery, with a memorial tribute placed atop the gravesite, which is usually a tombstone or a bronze plaque to honor and celebrate the loved one's life.
Entombment
Above-ground burials are referred to as tombs. Once a coffin is placed into a tomb, it is sealed up with brick and mortar, then covered in soil. There are several different options for above-ground burials, and those include private mausoleums, crypts, niches and estates. With the exception of our private outdoor mausoleums and our new outdoor crypts, all of our mausoleums are indoor and air-conditioned, making them a very pleasant place to visit during the hot, humid, rainy South Florida summers.
Some people choose above-ground tombs in areas close to the water, like New Orleans or South Florida, because of the high-water tables. Entombment prevents water damage and leakage.
Different Above-Ground Options:
We offer different interment options for those who choose our grounds as their resting place. Our above-ground cemetery mausoleums and columbariums offer a beautiful and honorable resting place for your loved ones. These are some of the interment options you and your family can choose from:
JEWISH MAUSOLEUMS:
All the people interred in the Jewish mausoleums are of the Jewish faith, and the staff at The Gardens upholds all of the appropriate religious traditions. These are located in what are known as community mausoleums, which are above ground buildings memorializing multiple individuals.
NON-DENOMINATIONAL MAUSOLEUMS:
Those that aren't Jewish will be interred in our other mausoleums, allowing families to keep their physical remains close to one another after death. These mausoleums are for above-ground burials in a casket, and they can be used for cremation urns, too. These are also located in community mausoleums.
PRIVATE OUTDOOR MAUSOLEUMS:
For those looking for a more private interment option that memorializes only their loved one, a family can choose to have their own private family outdoor mausoleum. These are custom-built tombs which can accommodate up to 24 people in your family.
CRYPTS & NICHES:
Crypts are slots inside a cemetery mausoleum in which the bodies in caskets are kept. A niche, however, is a smaller space in a mausoleum for storing urns with cremated remains inside. At The Gardens, we offer glass columbariums that allow families to personalize their loved one's niche as many times as they want. This gives families the option to celebrate important dates like anniversaries, birthdays, and major holidays.
FAMILY ESTATE BENCHES:
These are unique in that they offer a beautiful monument for several sets of cremated remains, which are placed inside the foundation of these granite benches. Usually, the names of the family members and their dates of birth and death are inscribed on a plaque on the side of the bench.
Personalizing Above Ground Burials
With any of our interment options, families have the option to personalize their loved one's burial site. These are some ways families can personalize above ground burials:
Crypt styles: choose from single, side-by-side, companion, or Westminster family crypts.
Memorialization: families can choose to add an inscription on the crypt, on what's known as a "crypt plate." These are made of various materials and are meant to include the name of the deceased, as well as other messages. Some families also add personalized markers and religious figures.
Personalization: when choosing a glass cremation niche, families can personalize the space with memorabilia.
Family Mausoleums: choose the design, materials, and each detail to build a stand-alone family cemetery mausoleum.
Cost Factors to Keep in Mind
At The Gardens, we'll do everything to accommodate your family to the best of our abilities. When asking how much it costs to be buried above ground, there are a few things to keep in mind regarding the costs:
The location of the crypt
The type of crypt space
The type of crypt memorialization
Any other personalization
Which is Right for You and Your Family
Deciding on the type of burial is a profoundly personal decision that should not be taken lightly. It's an important way to memorialize the life of your loved one and celebrate their accomplishments. At The Gardens, our funeral counselors will listen to your family's needs and ideas when planning for the right burial arrangements – whether those are in a mausoleum, a family estate, or a columbarium.
Visit The Gardens of Boca Raton Cemetery & Funeral Services at 4103 N. Military Trail, just north of NW 40th Street, and west of I-95, and let us help you with your family's funeral needs. We facilitate above-ground burials in the South Florida area, and we'd be happy to discuss all of your options. You can also call us at (561) 989-9190 to talk with our team.