Whether you are looking for family burial plots, companion plots, or for a single person, there are many different options to consider. In South Florida, above-ground burial plots offer the best protection from the elements, with protection against flooding that so often occurs in the sub-tropical environment.
At The Gardens of Boca Raton, South Florida's finest all above-ground cemetery, we help individuals who are in the process of pre-planning and pre-funding their final arrangements, as well as those who are in immediate need of planning for a loved one. Our grounds offer a serene final resting place where family can come to pay their respects for years to come, with a variety of above-ground burial options to meet each person's unique needs.
We provide cremation services as well as other above-ground burial options, and our dedicated counselors work with you and your family to ensure that all of your wishes are met.
Types of Burial Plots
There are several types of burial plots available at The Gardens of Boca Raton. You may select either a single burial plot, family burial plots, or companion plots. If you are in the stages of pre-planning your final arrangements, this is a good time to decide if you wish to secure space only for yourself, for you and your significant other, or for your entire extended family.
Single Burial Plots
A single burial plot is space for one person. You may choose to purchase a single plot if you are pre-planning your final arrangements or if you are in immediate need of a burial plot for a loved one who is recently deceased. Single plots are the most common type of burial plot purchased in the country. At The Gardens of Boca Raton, you can purchase a single burial plot for any of our above-ground options.
Side-by-Side & Companion Burial Plots
Companion burial plots are perfect for spouses and long-term partners. They offer a final resting place for couples either side-by-side or with one  burial vault placed directly above another. For those who wish to rest in eternal peace together, companion plots are ideal.
When you purchase a companion burial plot you are securing your final resting place, without worry that your loved ones will have to find two spots together at a later time. Companion plots provide couples with the opportunity to relieve their loved ones of a burden once they pass, and provide assurance to one another that your final resting places are together no matter what.
Family Burial Plots
For those looking to secure a final resting space for the entire family, family burial plots are the perfect solution. No matter how many spaces you are looking to purchase, you can rest assured that the entire family will have space together. This provides the unique opportunity for future generations to come and pay respects to their ancestry at one time, without having to travel.
Family burial plots are an excellent way to pay homage to your heritage. Additionally, purchasing a family burial plot takes the burden off countless loved ones in the future, as everyone knows that the final resting place for the entire lineage is taken care of.
Above-Ground Burial Plot Options
Just as there are various types of burial plots available at The Gardens of Boca Raton, there are several different above-ground burial options as well. Each present their own advantages and when you work with our compassionate counselors we can help determine what is best for your needs and wishes.
Cremation Niches
There are several types of cremation niches to choose from at The Gardens of Boca Raton, and each provides a tranquil place for an urn to rest. We offer glass cemetery niches, marble cemetery niches, memorial benches, as well as an indoor columbarium.
Glass Cremation Niches
Should you choose a glass cremation niche indoors, you can change the decor as often as you like. Many people choose to leave mementos, photographs, and decorate seasonally.
Memorial Benches
At The Gardens of Boca Raton, we offer a unique and beautiful burial plot options for cremation remains. You may purchase a memorial bench, in a place of your selection on the grounds, that can house cremation urns. Benches can hold either one urn or multiple urns depending on the type you select.
Indoor Columbariums
Our indoor columbarium serves as a tranquil place where loved ones can come to pay respects year-round, regardless of weather. Beautiful, well-lit hallways, with spaces to place flowers, and benches to rest on, choosing an indoor space poses many advantages.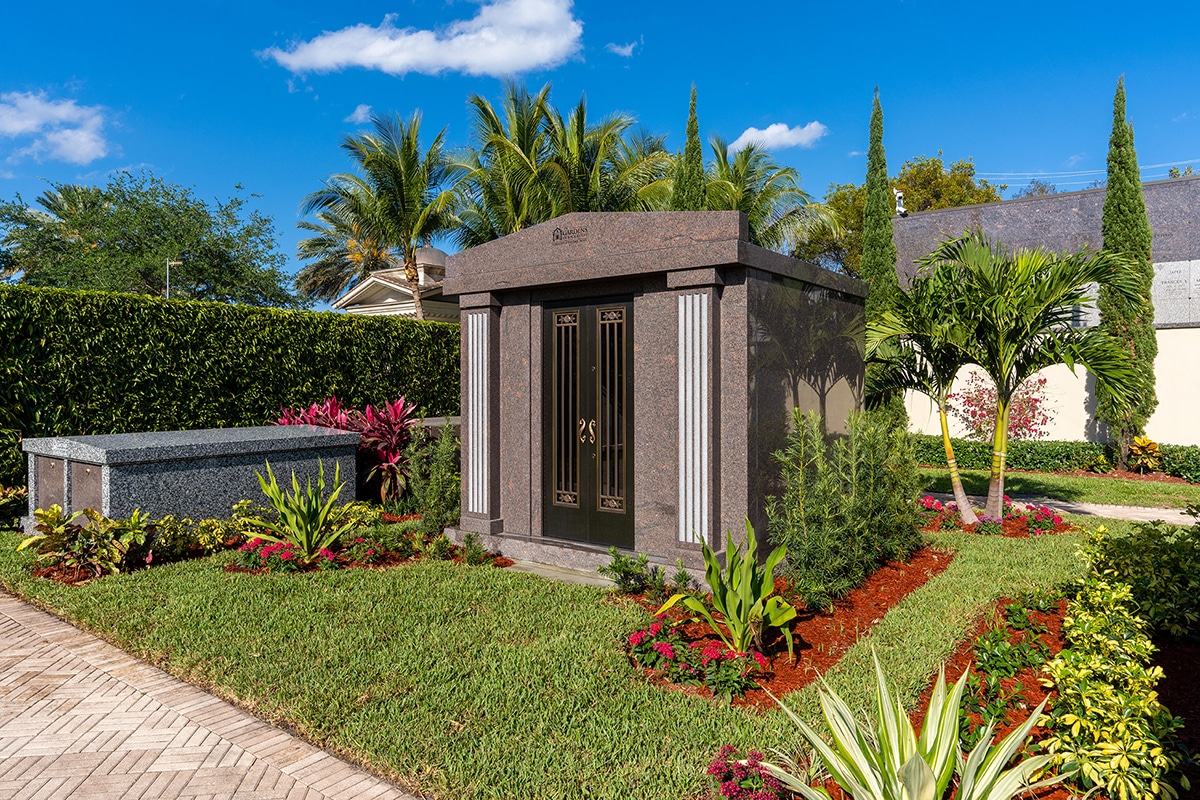 Mausoleums
Mausoleums are another option for a final resting place. When looking to buy a burial plot, either for pre-planning needs or immediate arrangements, take a look at our breath-taking memorial park. There are a variety of options to choose from to find the mausoleum that best meets your needs.
At The Gardens of Boca Raton, we offer community mausoleum burials, private and family mausoleums, as well as outdoor and indoor mausoleum spaces. Whether you select a space indoors or outdoors, you can choose from a single mausoleum burial plot or companion plots. If you are looking for family burial plots, our custom-built, entirely personalized outdoor private mausoleums offer the perfect space.
Community Mausoleums
The Gardens of Boca Raton has beautiful indoor and outdoor community mausoleums that provide a cost effective above-ground burial plot for those looking for single or companion plots. The indoor space is multiple stories, with the option to customize engravings, comfortable seating, and more.
Our outdoor community mausoleums are situated among serene gardens, with quiet scenery and a calming environment for anyone who wishes to visit.
Private Mausoleums
If you are looking for family burial plots, companion plots, or an above-ground burial plot that stands on its own, a private mausoleum may be right for you. Private mausoleums are standalone structures that provide the most options for customization. Construct a monument that speaks directly to your family's history and values, that will serve as a spot for loved ones to come for many years.
The Average Cost of Burial Plots
Many people worry that an above-ground burial plot will be more expensive compared to a traditional ground burial, yet this is not always the case. Community mausoleum spaces and cremation niches, for example, are often much more cost-effective.
A traditional in-ground burial may cost anywhere from $1,000-$4,000 depending on the cemetery's location and amenities. This is the price of purchasing the plot–there will likely be additional fees for opening and closing the grave.
The Average Cost of Cremation Niches
Cremation niches are generally much more affordable than in-ground burial plots. The national average runs anywhere from $700 to $2,800, depending on the location of your niche, whether you are purchasing a single niche or companion niche, and more.
The Average Cost of Mausoleums
The cost of purchasing a mausoleum varies greatly depending on the type of mausoleum you select. If you are looking for family burial plots or to have a private mausoleum built, the national average cost ranges between $25,000 and $50,000. Alternately, community mausoleum spaces are generally around $4,000 per plot.
Additional Factors That Impact the Cost of Burials
One of the most significant determining factors in how much family burial plots, companion plots, and single plots cost is where they are located. Average costs vary by state. Burial plots in rural areas are likely to cost less than plots in metropolitan or urban areas, and they are also likely to fall in line with the median household income in the area.
The cost of a burial plot will also vary depending on whether the cemetery is public or private, as well as the location of the specific plot within the cemetery itself. Burial plots are approximately 25% less expensive when they are purchased as part of the pre-planning process, and are also less expensive when family plots are purchased at the same time. Immediate need arrangements will always cost a bit more, regardless of location.
Additional Burial Costs
While these are the average costs of burial plots themselves, there are additional costs to take into consideration when pre-planning arrangements or looking for a service in immediate need. If you are in the process of pre-planning and pre-funding your final arrangements, whether you are looking at family burial plots, companion plots, or for a single burial plot, you have the option to also pay for most, if not all, of your funeral service in advance. This brings great comfort to many as they can ensure their final wishes are entirely met and that there is no financial burden on their loved ones in the future.
In addition to the cost of a burial plot, additional end-of-life planning costs include:
Embalming or cremation costs
Opening and closing the grave or crypt
A casket or cremation urn
Cemetery maintenance fees
Engraving costs
Costs associated with a service
Again, these costs will be lower if you pre-plan arrangements–purchasing when in immediate need always costs more.
Purchasing a Burial Plot
Whether you are pre-planning end-of-life wishes or are in immediate need and are looking to purchase an above-ground burial plot at The Gardens of Boca Raton, contact one of our on-site counselors for a private consultation. We will review all of your options and discuss your unique needs to put together a package that is right for you and your family.
Selling a Burial Plot
Sometimes circumstances change. Perhaps your family moves, or you change your mind on what type of above-ground burial plot you would like to have in the future. If you have already purchased your plot during the pre-planning process you may be wondering what your options are.
At the time of purchase, our counselors will go over your contract with you to ensure you are aware of any stipulations that surround changing or selling the plot you purchase. Generally, if you would like to sell the plot you purchase there are two options.
A Transfer of Funds
If your family is moving and already has a burial plot that you would like to relocate, you may be able to transfer the funds to a new location. Whether you are moving to the Boca Raton area from out of state and are looking to transfer the funds from a previous cemetery to The Gardens of Boca Raton or are looking to move out of the Boca Raton area, you may be able to move your funds between cemeteries.
The Right of First Refusal
The second option is known as the right of first refusal, and this will apply if you do not wish to transfer your funds to another burial plot. The right of first refusal states that if you are looking to sell your burial plot you must first offer it to the cemetery from which you purchased it. They can buy the plot back from you.
Contact The Gardens of Boca Raton Today
If you are in the process of pre-planning your final arrangements, or are in immediate need of services for a loved one, contact The Gardens of Boca Raton today to speak with a member of our team. Our phones are open 24-hours a day, 7-days a week, and our Funeral Director is always on call for any imminent needs.