Florida has the fourth-highest population in the United States. As one of the biggest destinations for retirees, it also happens to have a high average age. That also means it has an above-average age percentage of deaths. But for those planning a burial in Florida, there are some South Florida burial options to consider.
What to Know About Planning a Burial in Florida
There are several questions you should answer before contacting a funeral home, like The Gardens of Boca Raton – Cemetery & Chapel. Is a burial or a cremation what you are looking for? Would you like the funeral service to be something traditional or something more creative and contemporary? For those looking at South Florida to plan a funeral service and burial to take place, there are some things you and your family must consider.
How to Get a Death Certificate in Florida?
In the state of Florida, death registration with the local vital record office should happen within 5 days and before the body is buried or otherwise cremated. In most cases, the funeral home, the cremation organization, or whoever is in charge of the deceased person's remains prepared the death certificate.
Make sure you request several copies of the death certificate, you may need them in the future to claim benefits, payable accounts, veteran benefits, etc.
Who Can Order a Death Certificate?
In Florida, anyone can request a death certificate that does not include the cause of death. Unless the death dated over 50 years ago, only the following people can order a death certificate:
The deceased person's spouse
The dead person's parent, child, grandchild, or sibling over 21
A legal representative
Any person that possesses a document (such as a will) that demonstrates an interest in the deceased's personal estate
Where Can Bodies Be Buried in Florida?
There are no state laws that prohibit burial on private property. However, most bodies are buried in established cemeteries locations. Florida law allows families to establish cemeteries if they're less than two acres and burial rights are not offered for sale. However, before burying a body on a private area, check county and city zoning ordinances.
Florida Cremation Laws
Different states have different cremation laws. In Florida, cremation is only possible after the coroner has issued a cremation permit, and a "Cremation Authorization Form" is filled out and signed by the next of kin. One thing to remember is that there is a 48-hour waiting period after death before cremation can occur. The paperwork and other arrangements take about three days.
Is a Casket Required for Burial or Cremation in Florida?
No law in Florida requires families to purchase a casket for a burial or cremation. However, some cemeteries have specific rules that need a particular type of container for burials. For cremations, federal law requires funeral homes and crematories to inform you that you may use an alternative container and provide such containers. These alternative containers are often made of unfinished wood, fiberboard, cardboard, or pressed wood.
Where Can People Store or Scatter Ashes in Florida?
At the moment, there are no laws in Florida that prohibit you from keeping or scattering your loved one's ashes. Niches, graves, crypts, or an urn at home are usually used to store ashes. If you wish to scatter the ashes, you have multiple options:
Scattering Garden – some cemeteries have a designated garden to scatter ashes.
Private Land – Florida cremation laws allow for people to scatter ashes on private property, as long as you have permission from the landowner.
Public Land – For city parks and other public land sites, it is best to check with local regulations to be safe.
Federal Land – By law, you have to request permission to scatter someone's ashes on federal land.
At Sea – According to the Federal Clean Water Act you can scatter cremated thee nautical miles from land. The EPA does not allow ashes are scattering at beaches or pools by the sea. And, you must notify EPA within 30 days of scattering the ashes. For more info, review the Burial of Human Remains at Sea EPA guidelines.
By Air – While no state laws prohibit you from scattering ashes by air, there are federal aviation laws that ban dropping any object that might cause any harm to people. In that case, the U.S. government does not consider cremated remains hazardous. Meaning you can scatter the ashes and conserve the container.
VA Funerals in Florida
All veterans of the United States military service are entitled to a U.S. flag, a free cemetery plot and a grave marker. However, a copy of the veteran's DD214 discharge papers will be required to acquire those veteran benefits.
You'll often find that funeral homes also give discounts for funerals for veterans. Make sure to ask your funeral director.
Check with VA cemeteries near you to see if there are burial plots available, or if they only have space for cremated remains.
Embalming in Florida
While the state of Florida doesn't require embalming, bodies must be refrigerated within 24 hours of death, or it must be embalmed. Many funeral homes will encourage embalming, especially if you are planning a viewing or a public service. But, it is not legally required by the state.
Green Burial Options in Florida
Conducting your legal funeral services in Florida is possible. Coordinate with a home funeral while using local county authorities to help file the death certification. This way you can obtain a burial or cremation permit.
You can apply for a family burial plot on your property. To apply for a family burial plot, you need less than two acres of land, without rights to sell burial spaces. Contacting the Florida Department of Environmental Protection is the best way to proceed with this.
Natural burials, without embalming, implies the body must be buried in a biodegradable container in a designated burial site.
Florida: The Gardens of Boca Raton Cemetery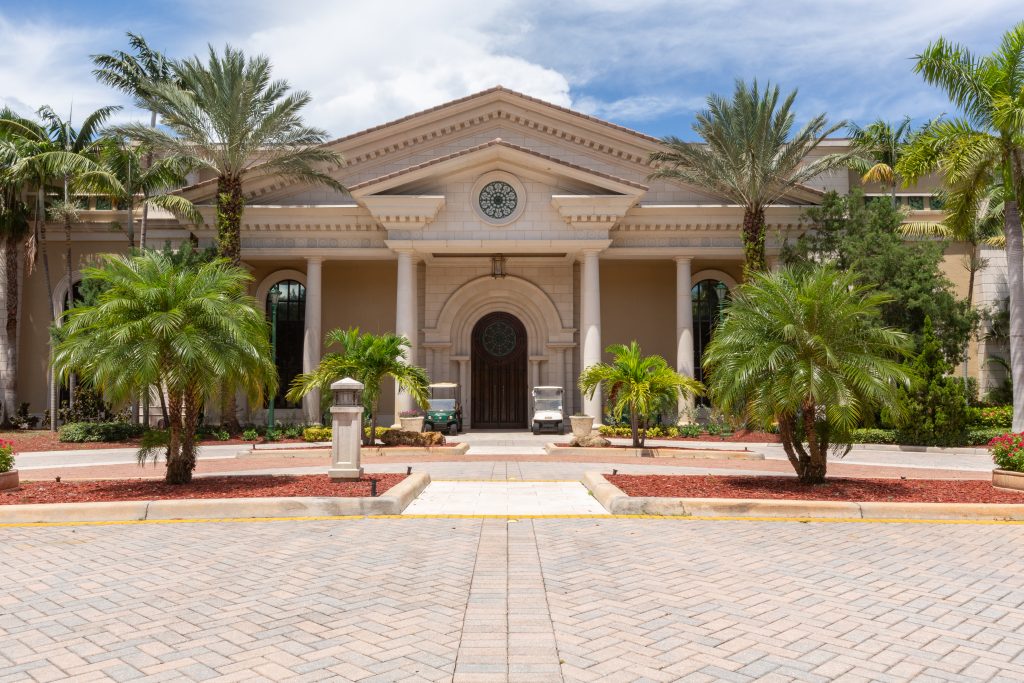 Right in the heart of peaceful Boca Raton lies The Gardens of Boca Raton, a serene and tranquil memorial park designed to give visitors a unique experience and connection with their departed loved ones. Its visitors argue they do not feel as if they are visiting a cemetery.
Its indoor and outdoor mausoleums reflect a classic style that celebrates life and commemorates those resting here, making sure their legacy is treasured forever. The sunshine reflecting off the lake, and the thoughtfully designed indoor mausoleums with glimpses of natural light coming through the windows instantly create an atmosphere of peacefulness.
While Florida burial options limit what you can do, the state's laws are meant to protect its citizens, which is why it's important to talk to a funeral home, like The Gardens of Boca Raton – Cemetery & Chapel, to find out the best way to show respect to your loved one.